Thank You for Registering for KYU!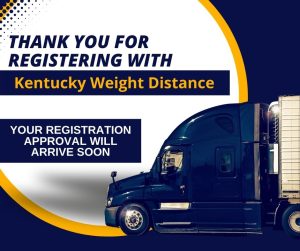 Thank you for submitting your order with KentuckyWeightDistance.com! Our Kentucky tax experts have received your information and will reach out to you if there are any issues.
We will email you within one business day with your digital proof of registration and new KYU number! You can print that out to keep with your vehicle or keep a digital copy on your phone. You don't need to display anything in your vehicle (except if you are driving a leased vehicle and the KYU account holder is the lessor), but you should keep proof around just in case.
Thank you again for choosing KentuckyWeightDistance.com! We appreciate your business. If you have any questions or concerns, do not hesitate to contact us directly at (502) 351-0002 or email us at info@kentuckyweightdistance.com. Our business hours are Monday through Friday, 10 a.m. to 8 p.m. EST. Feel free to check out our affiliated websites as well! We have sites that can help you with your IRP registration, your IFTA registration, temporary trip and fuel tax permits, UCR, and more!